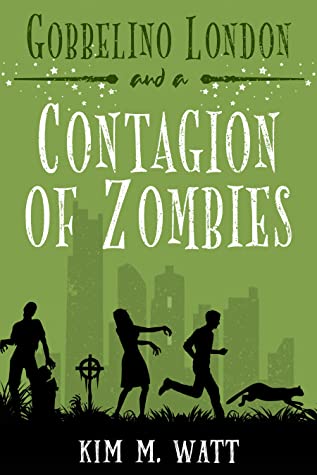 I like PI stories. I like grumpy heroes, with a chip on their shoulder, who are sailing close to the dividing line between law-abiding and lawless.
Therefore, I was quite happy to receive a free Advance Copy in return of a review.
I have a soft spot for cats (and dogs), I like to read fantasy, and I am an addict to a certain sense of humor.
Gobbelino London and his sidekick Callum, both Private Investigators and residents of every rainy Leeds fill the ticket nicely.
The Private Investigators stumble from one adventure into the next.
In this new adventure the two heroes are suddenly confronted with a Contagion of Zombies.
Gobbelino has to find out why there are suddenly Zombies infesting Leeds, the town of everlasting rain.
Even though Gobelino knows for sure, that Zombies don't exist anymore. But on the other hand: what looks like a zombie, behaves like a zombie, might be…
Unfortunately in the process of investigation Callum gets bitten and starts to turn as well into a living dead.
So Gobbelino, a somewhat catty character has to work together with some interesting – let's call them – persons to try and stem the increasing tide of living dead, which is swamping Leeds.
Mrs Watts has written an entertaining story, which kept me up a whole night. So be careful: reading might be contagious too.
In this time of Corona infestation somehow the infestation of Zombies brings on the laughter, but while reading, I did wonder a little bit, and sometimes the laughter sounded a little bit hollow.
Anyway: I can fully recommend the second adventure of Gobbelino and Callum and am looking forward to no. 3.